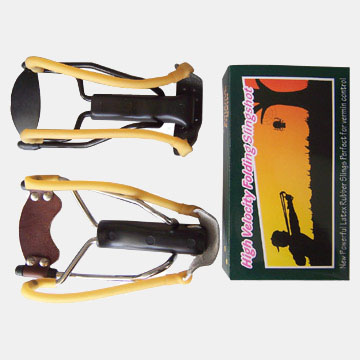 These slingshots, especially the upper one, are very, indeed very popular. Just look at ebay.com and you can see that at least 80% of all sold slingshots are this model. And most of the out-of-the-box-outdoor webshops sell it, too. Sometimes, it is sold as "Black Spider" or "Power Spider", trying to resemble the Barnett Black Widow...Weifang Zaoshi produces a very similar model (and toprun sells crossbow bolts that look exactly like the ones from Weifang Zaoshi - maybe they belong together). This slingshot is usually advertised as "High velocity folding slingshot" - made from the latest space aged materials, Firm positive grip for steady aim and superior accuracy" (whatever the latest space age materiels kight be)- or the second version: "This deluxe slingshot folds down to a compact size. It has over 100 yard range. Light aluminum frame and split leather pouch." I do not think that the slingshot is really made of aluminium! It looks rather like normal painted steel, the only aluminium slingshots I know are the Trumarks. But anyway, many people might wonder if this slingshot is well-built enough to buy, and unfortunately, I cannot give an answer to this. I never shot with it (and I hope I can do one day), and from the pictures, I would just say that it is non-spectacular yet usable. The rubber bands, however, look different on every picture from this slingshot, and this is usually not a good sign.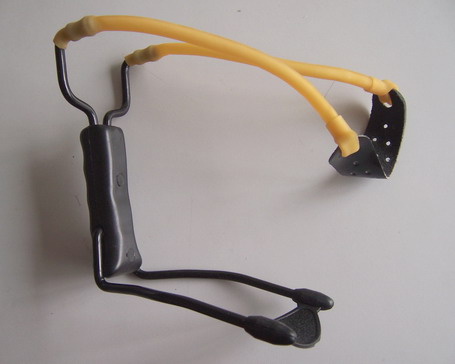 It really looks very similar to the Weifang Zaoshi slingshot. Both have either hidden screws inside their handle, of the handle tiles are glued together. Note the different lenghts of the bands, and how twisted the pouch is. The buyer must first re-align the bands before shooting!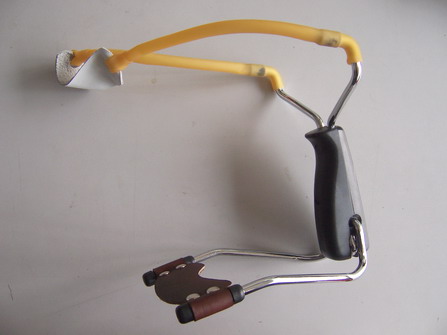 This slingshot looks much better! The handle has an ergonomic design and the metal frame runs completely through it. The wristbrace is a 100% copy of the famous Pocket-Rocket.