Weifang Zaoshi slingshots
Weifang Zaoshi is a big company that does produce bows, blowguns,knives and slingshots. Many famous no-name products, like that folding slingshot from which literally hundreds are sold via eBay, or a popular crossbow pistol are produced here. They do also produce interesting crossbows which can shoot with bolts, speargun spears and steel bearings.The goal of the company is the production of affordable bows and crossbows in order to popularize the shooting sports in China. Quote :
"Any success demands effective equipment? Without the cheap sports equipment,we canít popularize the exercise and reach the international level!"
This does not nessecarily mean that all these products are bad. Some of their stuff looks ok (especially the competition crossbows), and to be true, I never tested any Weifang Zaoshi-made item, and I am looking forward to do so one day.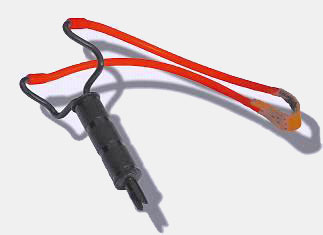 A simple slingshot, made of metal with a round polymer handle. It has a strange clip at the bottom.
_______________________________________________________________________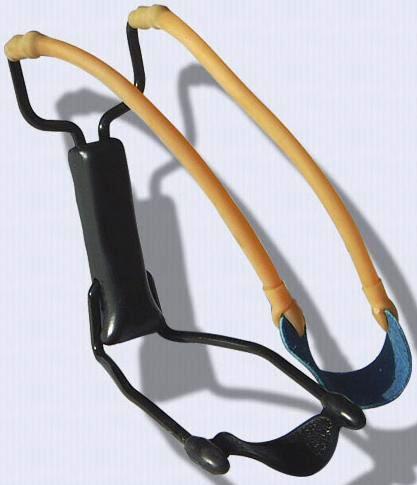 Now this is an interesting slingshot: It is sold at 1000 places, usually advertised as "High velocity folding slingshot" - made from the latest space age materials(Deuterium??), Firm positive grip for steady aim and superior accuracy"- or the second version: "This deluxe slingshot folds down to a compact size. It has over 100 yard range. Light aluminum frame and split leather pouch." This slingshot virtually flooded ebay and the internet stores. It currently gets replaced by some other (even cheaper) models, most of which are Megaline clones. I don't want to rant against products I never have tested myself, but on all the eBay photos, the rubber bands look very inconsistend and often not straight, this is usually not a sign for superior quality.....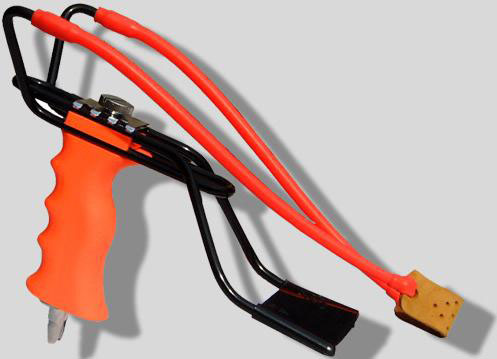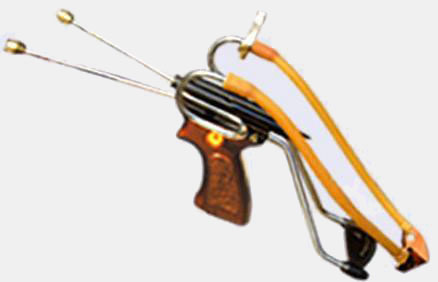 It is clearly visible that famous slingshots like the Marksman 3060 or the Barnett pro Diablo were "inspirations" for the Weifang Zaoshi slingshots.
Warning!
I don't like to write negative about manufacturers, but this time, it is necessary: A fellow shooter has the Weifang Zaoshi extended fork "Marksman 3060 clone" thing - and when he pulled the rubber, the slingshot broke! Now guess what happens if the slingshot breaks while one pulls back? Right - the forks comes flewn right into the face. Stay away from these cheap slingshots, you can get far better quality for a few dollars more!