Vintage slingshots
Vintage slingshot database
The folowing list is an attempt to give information about all vintage slingshots that are known to me. Please note that much of the information - especially the production dates - is very vague, and certainly often incorrect.
A big thanks goes out to Gary "Flatband" Miller! Without him and his interest in vintage slingshots, this page would have never come to existence. Another major contributer to this database is Bill "Tex-Shooter" Herriman.
How to use the database
You can sort the slingshots by clicking on the headers (Name, Date etc.)
If the Date has a "pat." behind, it means that this is the date when the inventor applied for a patent that describes the slingshot.
Click on the link in the "further info" column to learn more about the slingshots and see higher quality photos
Picture
Manufacturer
Model name
Production date
Country
Further Info
Wham-O
Sportsman
1948-1970
USA
Yes
Nichols
Super Sling Shot
1951
USA
Yes
1.Wham-O
2.Sheridan
3.Crosman
Powermaster
fixed brace
?
USA
Yes
1.Wham-O
2.Sheridan
3.Crosman
Powermaster
folding brace
?
USA
Yes
-
Zip Zip
1918
-
Yes
Hodge
Mulders
Catapull
1948(pat.)
USA
Yes
Victor
10
-
USA
Yes
Victor
20
-
USA


Yes
Milbro
Milbro
-
UK
Yes
Tinker
Killdeer
-
USA
Yes
Tinker
Deerslayer
-
USA
Yes
Barnett
Diablo 1st Gen.
?
UK
Yes
Barnett
Diablo 2nd Gen.
?-2005
UK
Yes
Barnett
Sidewinder
?
UK
Yes
Barnett
Cobra 1st Gen.
?-2000
UK
Yes
Barnett
Black Widow
/Strike9 1st Gen.
?-2000
UK
Yes
Barnett
Black Widow
/Strike9 2nd Gen.
2000-2005
UK
Yes
Weber
Slingbow
-
USA
Yes
Weber
Lynx?
Bobcat?
1978(pat.)
USA
Yes
Weber
Cat?
1970s
USA
Yes
Milligan
Milligan special
(small)
1950s
USA
Yes
Milligan
Milligan special
(large)
1950s
USA
Yes
-
Saunders
Wrist Rocket
-
USA
-
-
Saunders
Falcon
-
USA
-
-
Saunders
Falcon 300
-
USA
-
-
Saunders
Double Eagle 1st Gen.
-
USA


-
-
Saunders
Hawk 1st Gen.
-
USA
-
Marksman
Fireball
-
USA
Yes
Marksman
long
-
USA
Yes
-
?
Silent Slim
-
USA
-
?
Davy Crockett
1950(pat.)
USA
Yes
?
AERO-Sling
-
USA
Yes
General Sports
Scopeshot
-
USA
Yes
?
Little David
-
USA
Yes
Boler Mfg.
Boler
1964(pat.)
USA
Yes
Magda
DingDong /
G-String
-
?
Yes
?
Bullseye
-
?
Yes
Lohman
Lohman
-
?
Yes
-
-
Sling-O-matic
-
?
-
Lighthouse
Marketing
Nightstalker
1980s
USA
Yes
A.S.C
Blackhawk
-
1960s
Yes
Glatz
Zwillengabel
pre 1945?
Czech Rp.
Yes
?
Pocket Rocket
-
USA
Yes
?
Sharpshooter
1950s
USA
Yes
?
Bungay
-
UK
Yes
?
TSL
-
UK
Yes
?
Warden
-
UK
Yes
?
Slingo
1935 (pat.)
USA
Yes
-
?
Little Oscar
-
?
-
-
Beeman
Ninja
-
?
-
-
?
Perfect Grip
-
?
-
-
?
Sure-Shot
-
?
-
-
?
Texas Rabbit
shooter
-
?
-
-
?
Target King
-
?
-
-
?
Zip-Liner
-
?
-
-
AKAH
Zwille/
Hy-Power
-
?
-
Delong
Ranger
-
?
Yes
-
Thoreses
Extra Power
-
?
Yes
-
?
Huck-Finn
-
?
-
-
?
NFI
-
?
Yes
-
Lukens Aluminum Corp.
Lukens
-
USA
-
A.F.I
Super
-
USA
Yes
-
Deadeye
-
USA
Yes
-
Super Sight
-
USA
Yes
Wham-O Sportsman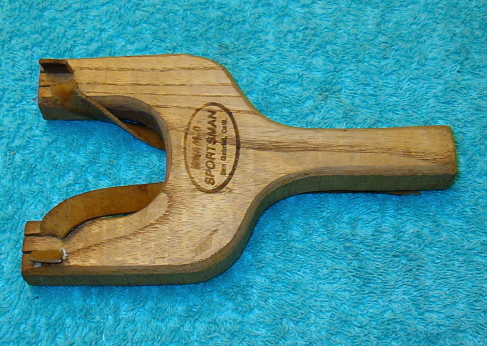 The Wham-O Sportsman is, without doubt, the most famous vintage US-made slingshot. It was introduced during the 50's as the first product of the toy maker Wham-O, and was marketed together with the National Slingshot Association. In the 60s, the popularity of slingshooting had reached a peak that was never exceeded until today, and the Wham-O was tremendously successful. One might wonder why this relatively simple slingshot became the big hit - it is said that it had excellent Gum Rubber flat bands, and the sale connection with the NSA were certainly helpful, too. Anyway, it sparked the production of many Clones that tried to emulate the simple, yet functional frame, and use flat gum rubber bands as well.
The Wham-O Sportsman has a sawed-out hardwood frame with two slits on each limb to hold a flat rubber band. It was said to be quite powerful, and was often used for hunting. The large cowhide pouch could be used to shoot several pellets shotgun-style, although I doubt that this approach to increase hit probability was a big success. One could add a steel wire rest to the fork, making it possible to fire arrows.
Whamo Instructions manual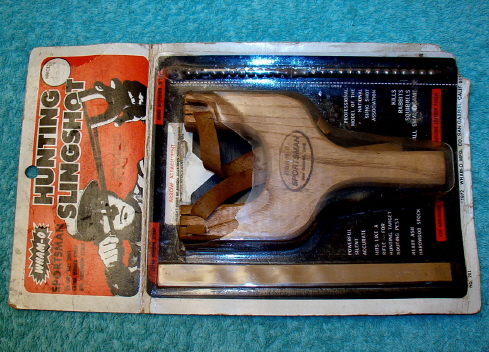 Complete Wham-O shopping box with ammo and spare bands.
Wham-O / Sheridan Powermaster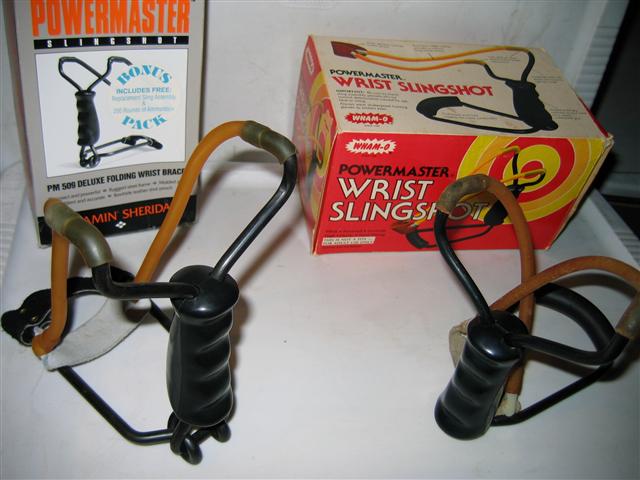 Left: Sheridan Powermaster with folding wristbrace
Right: Whamo Powermaster, model with fixed brace
In the 50's to the late 60s, Wham-O had tremendous success with its wooden "Sportsman" model. But the introduction of modern slingshots with wristbraces and mass-producable bent-metal frames marked the end of the vintage slingshot era. The Powermaster was Wham-O's answer. Two versions existed: One had a single metal part that ran through the handle to form both fork and wristbrace. The other one was a folding slingshot with two metal parts that form a hinge where they meet.
At some point, Wham-O decided to sell off the design. The very same slingshots were then produced by the famous airgun maker Sheridan, who, in turn, was bought up by Crosman, where the "Powermasters" were sold as the fixed "Cyclone" and the other model served as the basis for the folding "Desert Scout" and "Powerstorm". Crosman ceased slingshot production in 2009, thus putting an end to these venerable slingshots.
Zip Zip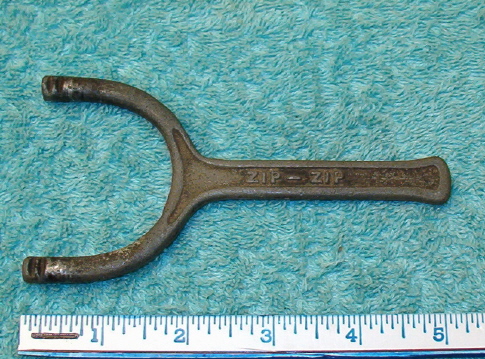 The Zip Zip was made in 1918 and is currently be the oldest comercial slingshot known to the collectors community. It is preceded by a number of slingshot patents that reach back to 1890 and earlier, but no existing slingshot from that time is known, while the Zip Zip is not as rare as one might believe.
The slingshot's frame is cast iron, with a number of ribs on the fork ends. A 1918 patent of a slimilar slingshot suggest that the slingshot used flat bands that were attached "over the top", with twine and pieces of rubber tubing holding the bands in place. The slingshot reads "Zip Zip" on the front and "Pat. D. 1918" on the rear side.
Victor animal trap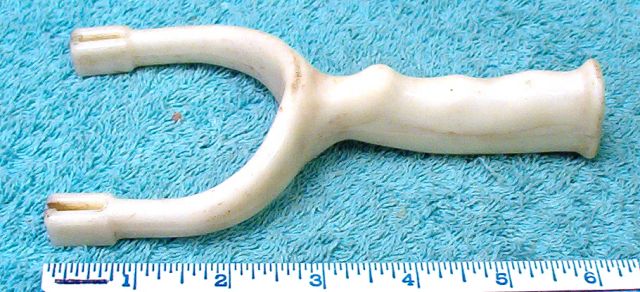 Victor Model 10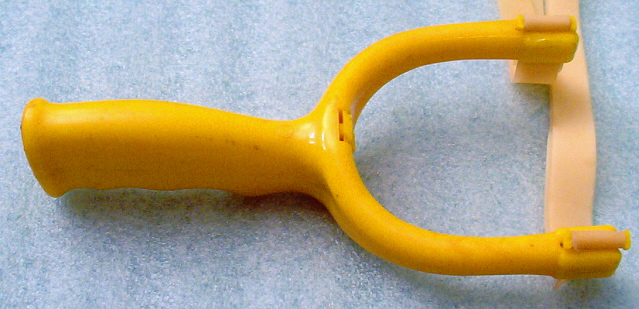 Victor Model 20
Victor Animal Trap Company produced two slingshots with the intention to sell them to trappers who have the need to kill a trapped animal with a shot from short distance. This is usually done with a smallbore firearm, but a slingshot is less expensive and can be used in inhabited areas without disturbing the residents. Both slingshots are molded plastic and have a contoured grip. They accommodate flatbands with the "Matchstick method", using two dogbone-shaped plastic wedges. The original bands were made of white gum rubber. The Victor 10 is so small that its handle seems to be tailored to a child's hand. Model No.20 has the same shape, but is bigger and has a small ammunition reservoir with sliding door at the base of the yoke. Both slingshots are sought-after prized collector's items, and are generally seen as well designed and comfortable to hold. The Victor 20 is very similar to the Hodgon/Mulders Catapull, and I guess there is some connection between them.
Milbro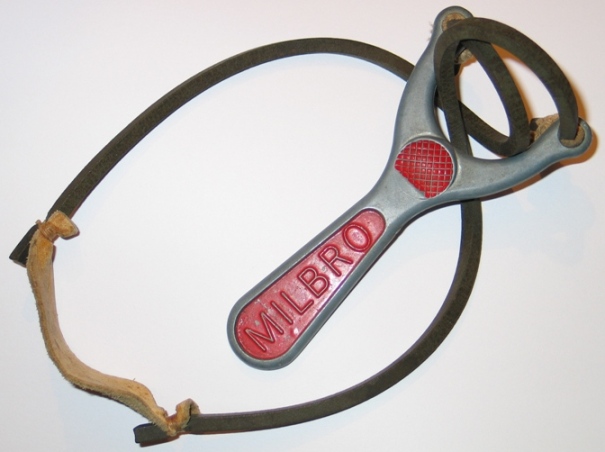 The Milbro is UK's most famous catapult. To this day, it lives on in the shape of many repros. This is a relatively small slingshot, especially the fork ends are very close to each other. It is made of cast metal, and has strong square elastic bands which are attached with a wooden wedge. It is held in hand with the thumb on the rough (in this case red-painted) part under the forks, and I think that the handle is too small to hold it in a different way. Usually, the slingshots came unpainted, but this one received a painting from the gunsmith, so the police could easily see who it came from, so the boys would receive an extra portion of trouble from him should they ever do mischief with it. Thanks to Francis Rostron for supporting this page with the picture of the Milbro!
Tinker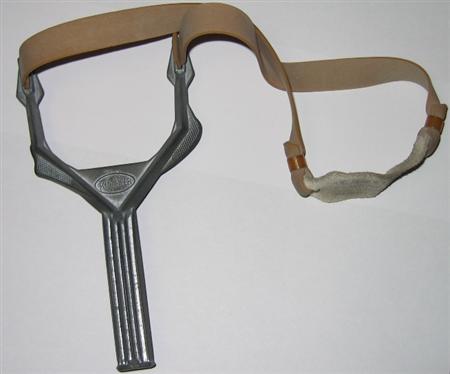 Tinker Killdeer with original bands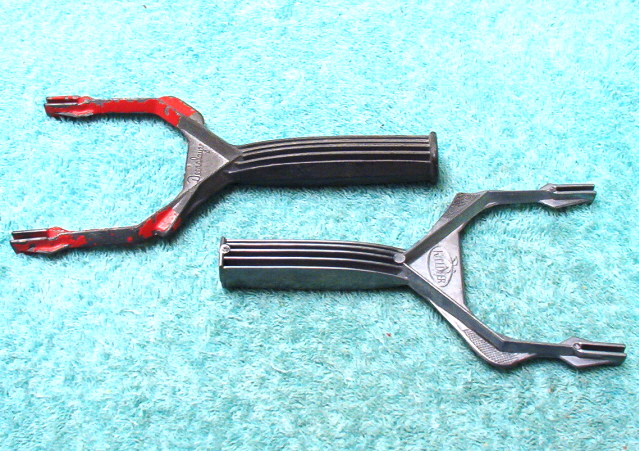 Tinker Deerslayer (top) with Killdeer
Carl Tinker, a retired engineer, from Lapeer, Michigan, produced the Tinker from the 1950s to the 70s with a remarkable home-made metal molding machine. Two similar designs - the Killdeer and the slightly larger "Deerslayer" exist, the Deerslayer being a lot rarer than its smaller brother. The Tinkers are made from a magnesium alloy and used gum rubber bands that were connected to the pouch using Scotch tape. The frames have tape prodtruding on the sides of the fork, that are meant to support thumb and index finger. It was sold with an extra band assembly and different types of ammo. The fork ends of most Deerslayers are painted red.

Carl Tinker was a slingshot enthusiast, and his knowledge payed off well. The Killdeer is, in my opinion, one of the most comfortable slingshots ever designed.
Further Information: Story about Carl Tinker
More background and an advertisement flyer
Barnett Crossbow Ltd.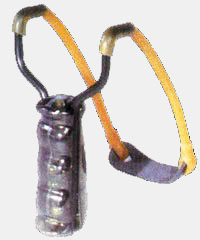 The "Sidewinder" was simple slingshot that can store ammo in its handle. I've never seen one except on a webpage of Barnett USA (around 1995-2003), and not a single webshop offered the Sidewinder. It makes me wonder if this slingshot was actually sold.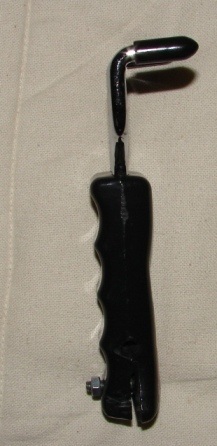 Three versions of the Strike9 / Black Widow exist. The metal fork remained identically, but the handles changed. The last version is in production.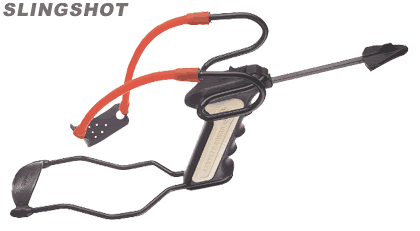 The old version of the Barnett "Cobra" that was replaced around 2005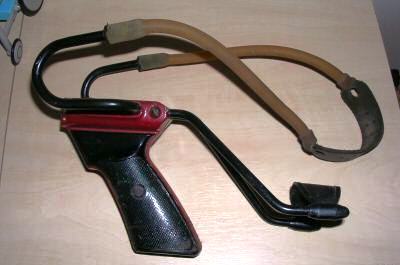 The first Diablo had a cast metal frame with two plastic grips. The second version had a one-piece handle that looked like a wood/epoxy mix. Both slingshots accomodated a sight and stabilizers, this was called the "Pro Diablo"
Weber
Slingbow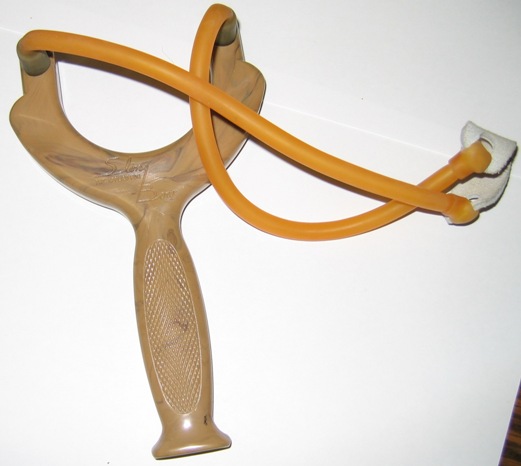 The Weber Tackle Company, Stevens point, Wisconsin, produced this famous slingshot. The frame is molded from high-impact plastic, and gum rubber tubing. The bands are attached to aluminium prongs which go through the forks and are attached with a nut.
Lynx, Bobcat and other "Cats"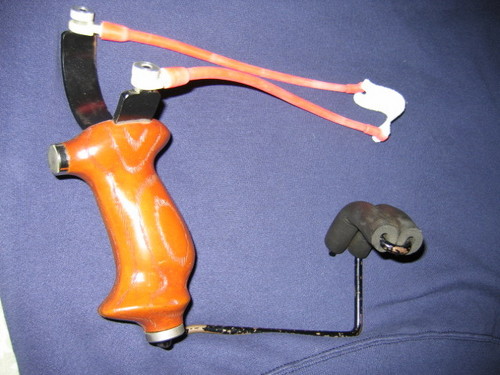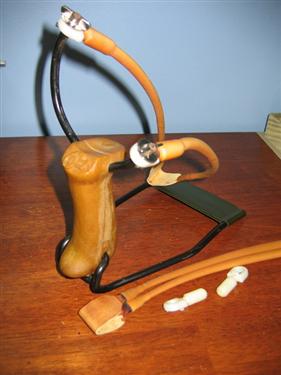 In 1976, the famous slingshot Inventor Rodney Wolf entered the Weber Company. Wolf was a passionate slingshooter, and he made many experimental designs that led to a series of highly advanced slingshots that were named after feral species. They all had a fork that was tilted 45° to the side and used thin, tapered bands that were attached on rotating studs, thus giving the shooter a high degree of performance and band life. The "Cats" had a fork that was either made from flat metal or late from bent rods. The slingshots were either equipped with a wristbrace or with a leather strap. There is some comfusion about which name belongs to which version, but one thing is sure: The "Cats" are among the highes sought-after collectors slingshots, and are very well made and advanced designs.
Rodney Wolf's tapered band patent
Milligan Special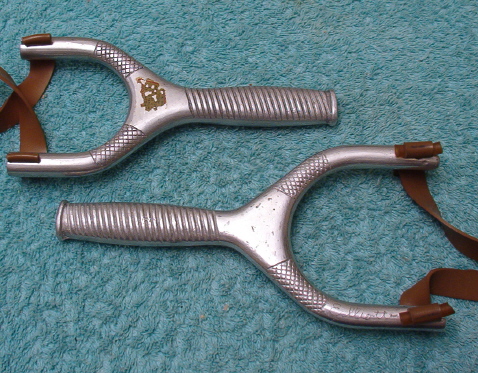 The famous Milligan special was designed by expert shooter John "Slingshot" Milligan in Detroit. It was produced in the 50's and was avaliable in two sizes. Both were cast out of aluminum alloy. This slingshot is an all-time classic, and a pleasure to hold and shoot.
Story about the Detroit slingshooters
Davy Crockett

The Davy Crockett had a very simple bent-wire frame and sighting device on top. The bands were mounted on the sighting part that could swivel in its horizontal axis, to keep the sights always in line with the bands.
Patent of the Davy Crockett
Slingo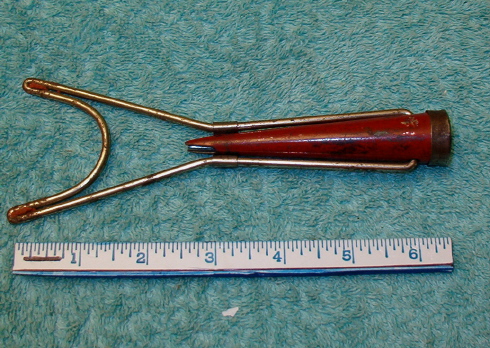 The Slingo was a simple slingshot made of bent steel wire in 1935. The cone inside the handle held BBs as ammo and could be turned upside down to release its content. With these light projectiles , crude shape and a relatively weak rubber band, this model was made for children and plinking in mind.
Magda DinDong / Gee-String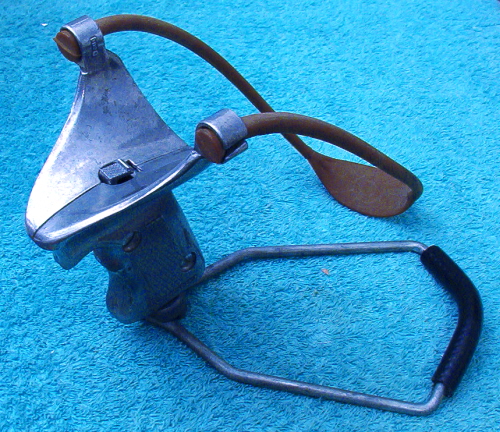 The "Magda Ding Dong" is as truly as strange as its name. It was manufactured in UK by Harringtons, Walton-on-Thames. Production date is unknown. Its body is made of cast alloy, the folding wristbrace is bent steel wire with a length of synthetic tubing. Its handle has an ammunition reservoir inside, with a small spring-loaded door at the bottom of the yoke. One of its most unusual features are the one-piece molded bands. They are solid round rubber, tapering down from 3/8" to 1/4" at the pouch. Such one-piece band assemblies are usually found on very cheap toy slingshots because they perform poorly. One the one hand, it is clearly visible that quite a lot of effort was put into this slingshot: It has a contoured handle, an ammo reservoir and the wristbrace is attached on a swivel that allows it to be folded to the side of the slingshot. I'm sure it was quite an expensive model back in its days. On the other hand, there are the low-performing one-piece bands, with an attachment that prevents you from installing any other type of bands. I know two owners of this slingshot, and both complain about an uncomfortable wristbrace, low power at high draw weight and poor acuracy. It is a great collector's item, but the Ding Dong will not become your favourite model for shooting. We can speculate what went wrong - maybe it was designed by a professional toy/household goods designer who had little knowledge about slingshots?
Note: The "Ding Dong" was also sold as the "Gee-string". The Dingdong says "Ding" on the left and "Dong on the right fork".
A.S.C. Blackhawk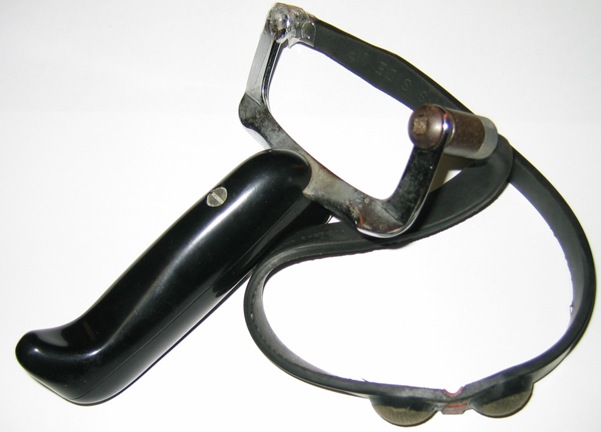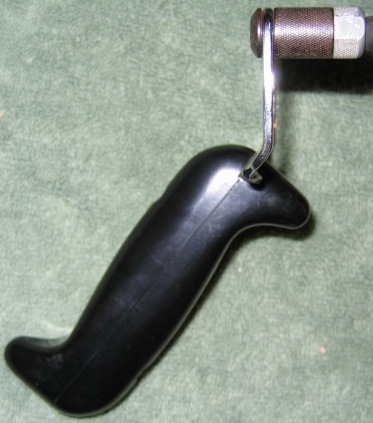 The "Blackhawk" is quite an interesting slingshot that was produced by the American Slingshot Company (ASC) from Toledo, Ohio around 1964. As you can see, it doesn't use a traditional band asembly with leather pouch, but instead has a molded cup on each side of its bands. The intention was to either load one large steel ball or fill it with shot. The Blackhawk's bands are so strong that it hurts the wrist to use it. It obvously was intended to be used for hunting, although the effect of a shot load from a slingshot is definitely not enough for this purpose.
Hodge/Mulders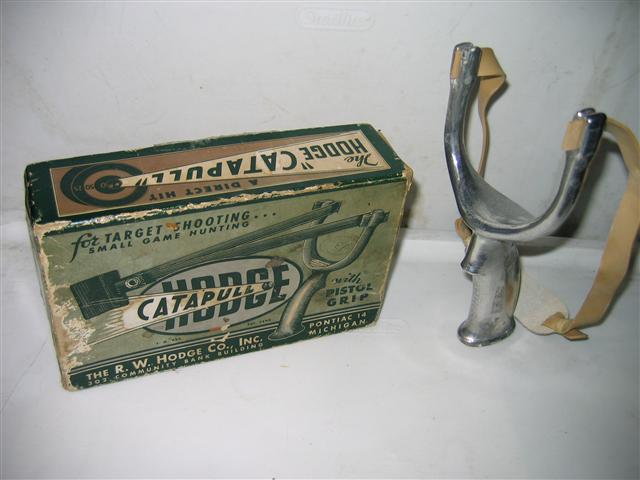 This cast metal slingshot was made from 1948 on. It was patented by Mr. Hodge who also produced it for some time, until the company "Mulders" purchased the rights to make them. The "Victor 20" looks so similar that I believe it is also based on this slingshot.
The Hodge has a well designed pistol grip that sits at a slight angle towards the fork. Have a look at the box - the original bands were attached with rivets, probably to cut down work time. I don't think this was good for the bands.
Aero-Sling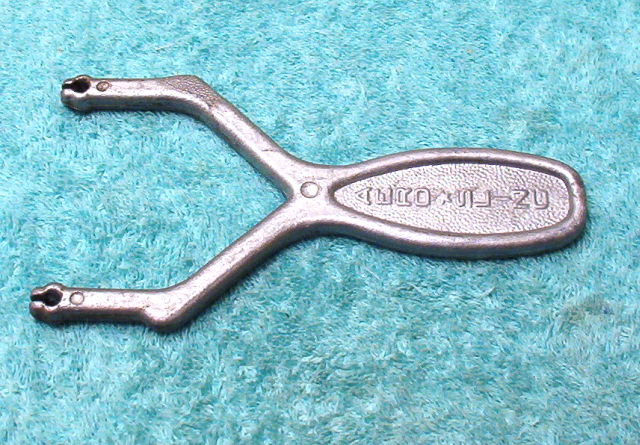 A small cast metal slingshot that appears to have used solid bands with stopping pieced molded on at the end.
Boler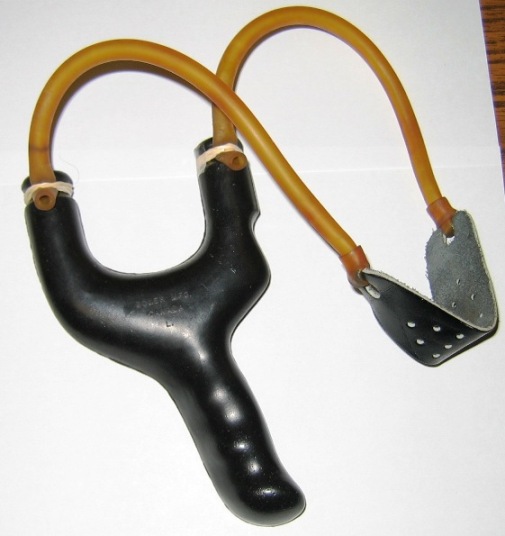 Boler, front view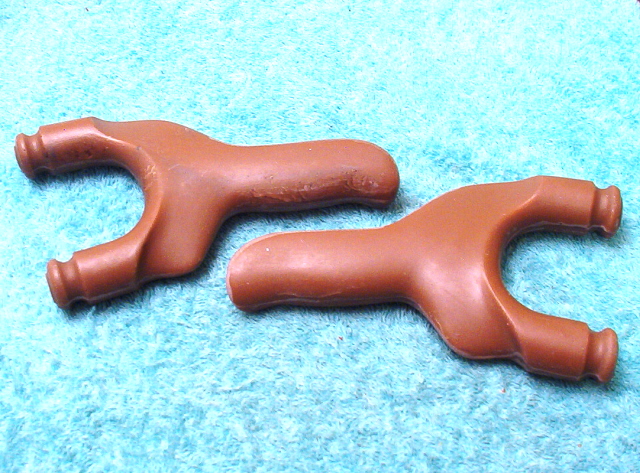 Rear view of left- and right hand models
The Boler is a remarkable slingshot. Most slingshots align for and handles in some type of geometrical pattern. Not so the Boler: The Designer put a lot of effort into designing an "organic" ergonomical slingshot that has an offset handle and a deep groove in the rear to fit the webbing between thumb and index finger. The slingshot is made of resin and is one of the first to attach its bands in an "over the top" fashion. Two strips of sticky latex came with the Boler, they were used to tie the bands to the fork. Both a left- and a right-handed version were made. It seems that the inventor made his homework - even today, shooters praise this slingshot as very comfortable and well designed.

Boler patent
Sharpshooter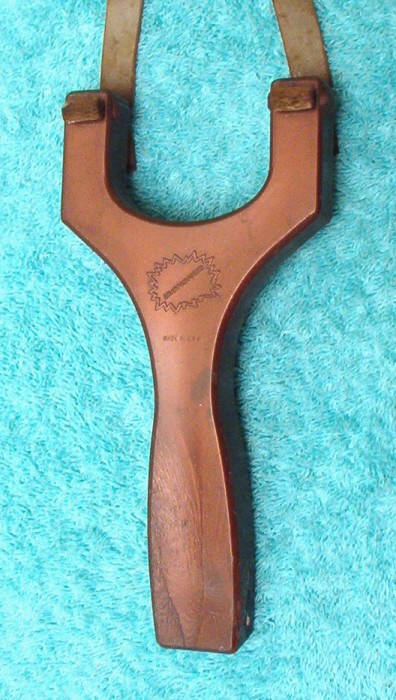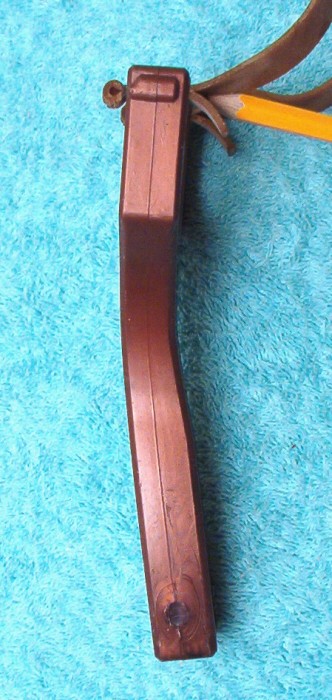 The Sharpshooter was made in Beeville, Texas in the 50's. The frame was made of plastic and had quite an interesting way of attaching the bands: They were simply pushed in slot-like holes. The slingshot was shot "over the top", the bands ran over the top of the slingshot, thus reducing wear on the attachment. The handle had a small angle and the fork could be supported by the fingers.
Glatz' "beste Zwillengabel"

This slingshot is an interesting find! The first thing that catches one's eye is all the stuff that's written on the handle. Most old slingshots are completely unmarked. But the maker of the "Zwillengabel" was, apparently, quite convinced of his design - and panicking over the thought to see his dear slingshot getting copied! All that writing is one big warning. It reads

"Jede Nachahmung wird strengstens gerichtlich verfolgt. Im In- und Auslande gesetzlich geschütze, beste Zwillengabel. Alleinerzeugung G. Glatz in Görkau Böhmen."

Which translates to:
"Any reproduction will be prosecuted in the most strictest way by court. Best slingshot frame, protected by law at home and abroad. Sole production by G.Glatz in Görkau, Bohemia."
This text gives us a clue about the production time. Görkau (Jirkov) lies within the borders of the Czech Republic. A lot of ethnic Germans settled around this city before 1945, but one wouldn't expect to find German text on a Czech slingshot after the End of WWII.
The slingshot's material is just as unusual. It appears to be forged from a flat piece of steel, like a piece of tableware. The handle is curved and recessed to fit into the hand. The exact type of band attachment is unknown, but I guess that leather loops run through the holes to connect rubber and fork.
Thanks to Baumstamm for discovering this rare slingshot!
Nightstalker

The Nightstalker was sold in the 80's by "Lighthouse Marketing" from Las Vegas. It was an excessively powerful slingshot, with a fork extension and very strong bands that had a pull of about 50 lbs. Of course, the old rule that extreme designs have extreme disadvantages came into play - only very strong people could handle this slingshot, and the metal frame started to bend under the forces that rested upon it.
Pocket Rocket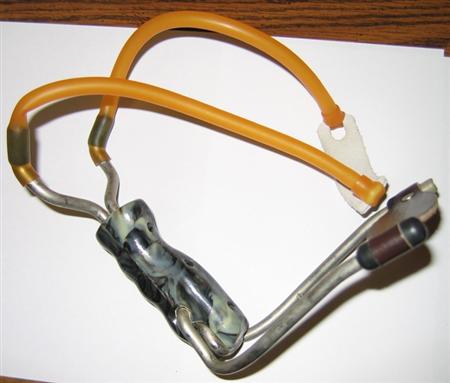 The famous Pocket-Rocket is the forefather of all wristbraced folding slingshots. The wristbrace is made of leather and the handle is some marbilized plastic, screwed to the frame which runs completely through the handle and holds the wristbrace in place. The bands are attached with the "chinese handcuff" method, while the leather pouch is attached by the "loop through itself-"way, just like it is the case with 95% of all modern slingshots. This classic has inspired almost every recent manufacturer!
Scopeshot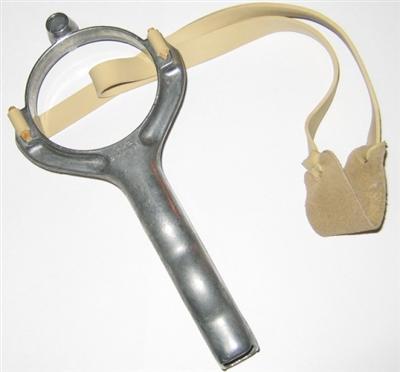 General Sports out of Lawrenceburg, Indiana produced this famous slingshot. The pistol-grip style frame is made of polished cast aluminium. The flat bands made of natural gum rubber are attached by the "match in loop"-method, the pouch is held in place by loops through holes in the bands (which is not so good for the band life). The little tube on top of the frame was meant to form a sight, so it is not intentioned to be shot in a 90 degree angle. The whole setup was sold with,according to the advertisement, "deteriorating pellets that literally explode when they hit" - probably clay ammo- and a shooting manual. The Scope-Shot proved to be a very popular slingshot back in its days.
Little David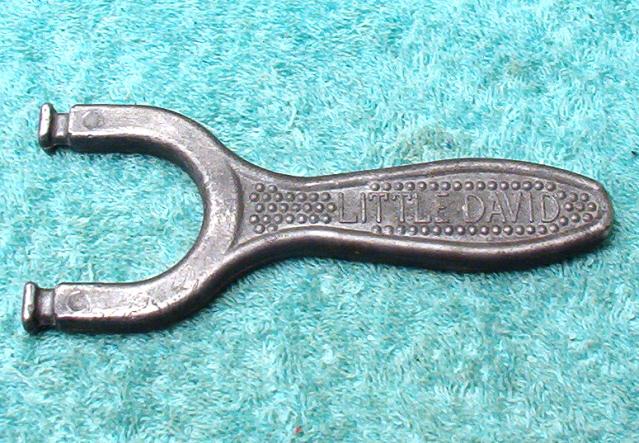 The "Little David" is a small pocket slingshot that was made from cast metal.
Wham-O Clones
From the very beginning on, the Wham-O Sportsman was a highly successful slingshot. Its hard to say what made it stand out from the crowd - it was said to have used very good rubber, but maybe its commercial success had more to do with marketing than with its shooting capabilities. Anyway, many manufacturers tried to jump on the bandwagon and sell their own interpretation of the WhamO. These "Whamo Clones" all use some type of gum rubber flat bands that are connected to the frame using two vertical slots in the fork ends. They more or less copy the frame that can be held both by finger support and pistol grip, and has a beefy middle area to provide a large saftey margin against breaking. I think the wooden fork lent itself to be copied with basic woodworking equipment, this might be another reason why so many WhamO-wannabees exist.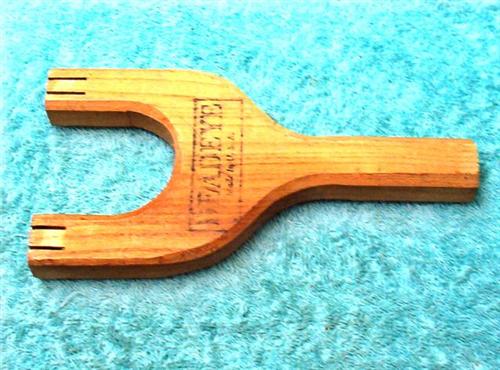 Deadeye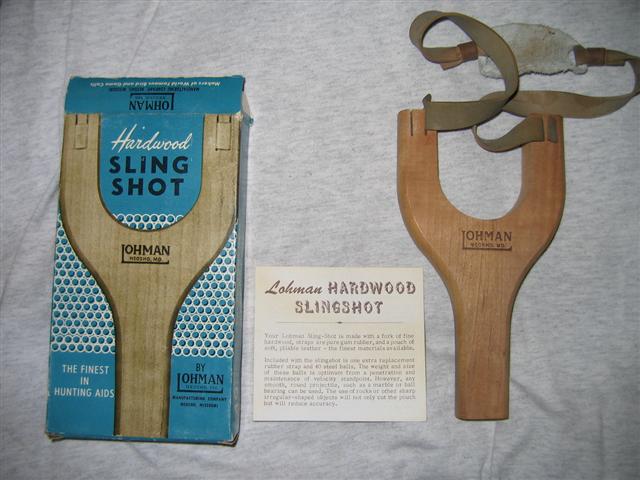 Lohman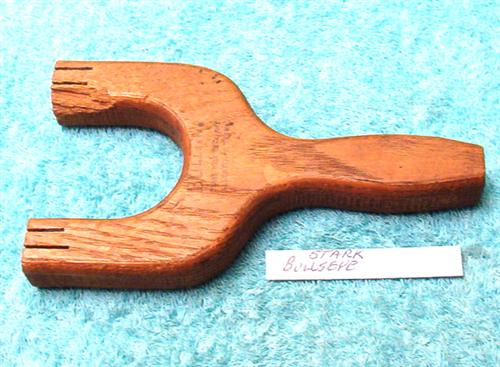 Bullseye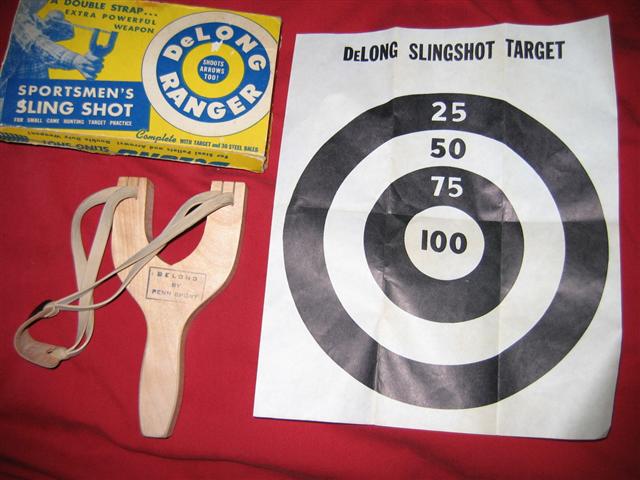 Delong Ranger, first version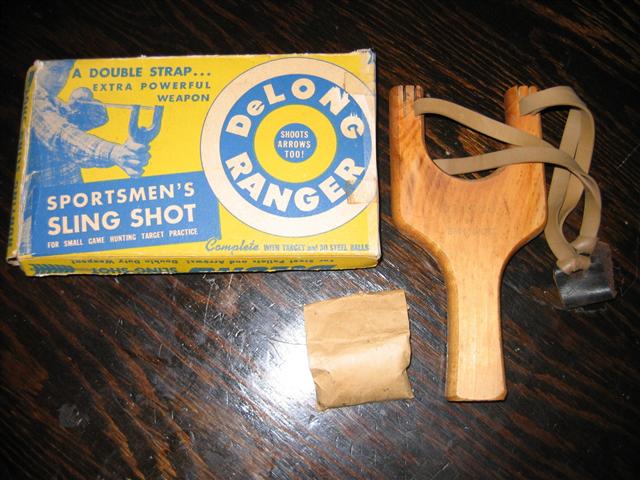 Delong Ranger, second version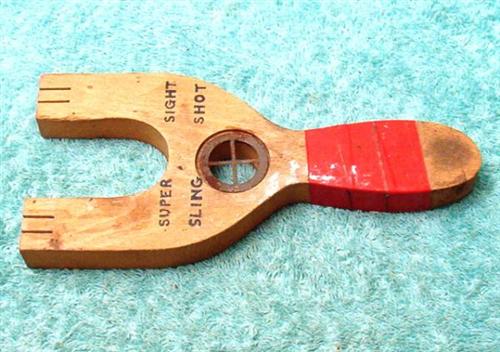 Super Sight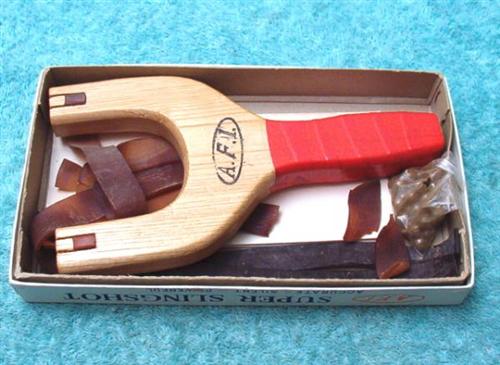 AFI Super
...as well as the "NFI", Thoresen "Extra Power", ASI, "Heavy Duty", Fireball, POW, you name it.. .here is an ad collage that shows a few of the clones, along with the real thing:

Marksman
Marksman Fireball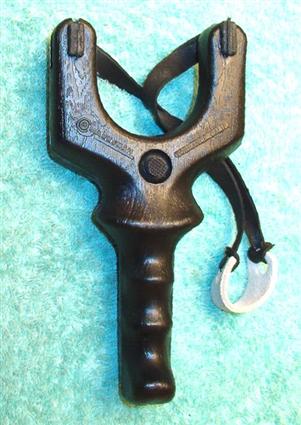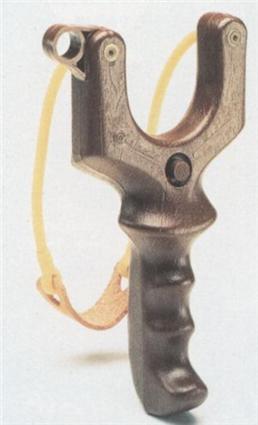 The Marksman "Fireball" was an all-plastic slingshot. It had an ammo storage that released a steel ball when the button on the front was pressed. The fork was meant to be supported by the fingers. Two versions existed. One - probably the earlier model - accepted flat bands that were held in place by studs that were molded on the rear side. The second versions uses tubular bands and has a small peep sight.
"Long"

Can you believe it? Marksman once sold this huge extended-fork slingshot. It shares handle and Wristbrace with the model 3040, but has a very long fork, made of stronger steel than today's marksman models use.
Bungay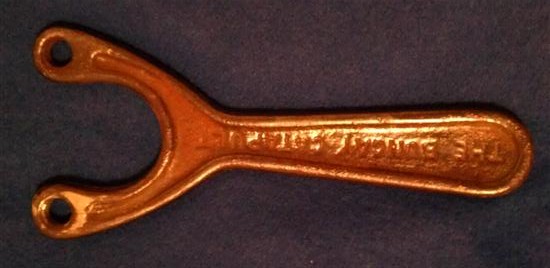 This UK made slingshot looks quite similar to the famous Milbro, but is smaller. Its handle reads "The Bungay Catapult".
TSL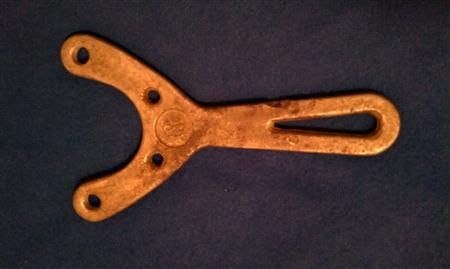 A cast metal slingshot that was made in England. The two lower holes in the fork may indicate that the TSL used four-strand rubber bands - attached all around the frame. Several slingshots tried this design, but it is inferior to bands running along close to each other.
Warden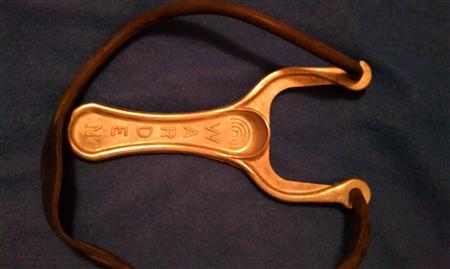 This nice cast aluminum slingshot has a deep groove for thumb support.
Nichols "Super Sling Shot"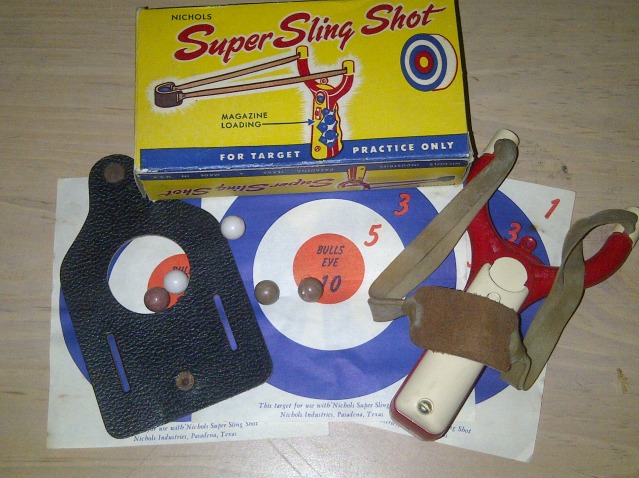 The "Super Sling Shot" is - unusual for the 50s - an all-plastic slingshot that has an internal magazine. It used dual flat gum rubber bands. Its was supplied with ammunition of quite a large diameter, a leather holster and targets. Note that its box reads "For target use only", which is quite remarkable. All other slingshots from the 50s tried to convince the buyer of their unbelievable power and hunting capabilities.
Link to patent